Two years journey of Indigram Labs

Indiram Labs Foundation (ILF) has made some impressive strides since its humble beginning in 2015. Founded as a technology business incubator under section 8 (Not for Profit Company) of companies act 2013, Indigram Labs is supported by National Science and Technology Entrepreneurship Development Board (NSTEDB), Department of Science and Technology, Government of India.

Indigram Labs is committed to foster and nurture viable business ideas in the fields of Agriculture, Food Processing, Renewable Energy and Rural Healthcare. We believe that there is no dearth of ideas but mentoring, an initial push which will make the difference between an unfulfilled dream and a flourishing business. We create an entrepreneurial ecosystem for individuals with creative minds and ideas with potential to grow full – fledged business enterprises which can touch & transform rural lives. To date, ILF has
1. Helped 17+ nascent stage ventures to develop into a sustainable business
2. Sustained more than 300 employment opportunities all across the country.
3. Established an entrepreneurial ecosystem with 48 mentors, 25 investors, 18 Institutional and organizational collaborations and many more to add.

ILF targets to incubate 100 starts ups in next 5 years through the process of consulting, mentoring, prototype creation, leveraging technology tie ups and access to platforms that yield the stated results, other business management (legal & secretarial, office space) services and also funding for them. These enterprises are selected on the basis of power of the idea, its business model, potential to scale up and social impact apart from motivation that drives the entrepreneurs.

We at Indigram Labs Foundation believe that entrepreneurs have a unique opportunity to make positive global change while remaining profitable. They have the power to change lives and livelihoods in the communities and the country. We see them as the conduit for real change and development – a ripple effect that begins with the business and moves into the community at the grassroots level.
Message from the founder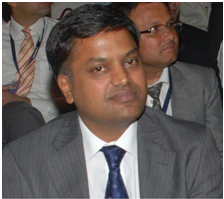 "Welcome to the first issue of the newsletter of Indigram Labs Foundation (ILF). The purpose of this publication is to keep our incubatees, partners, sponsors and supporters informed about the activities of ILF. It has been a busy and exciting journey so far! Indigram labs was incorporated in 2015 with an aim to nurture and develop viable business ideas into full fledged businesses in the set out areas of Agriculture, Food processing, Renewable energy, Education and Rural Health care. In the last two years we have created an entrepreneurial mini-ecosystem within our sectoral focus areas with 17 incubated companies, 35 innovators, 48 mentors, 25 investors and several collaborations with institutions and organizations like IARI, CFTRI, Upaya Ventures and many more. ILF has sustained more than 300 employment opportunities across the country. Our success is a function of the efforts of our team, partners and the talented entrepreneurs in the incubation program. We would like to express our gratitude to our honorable board and advisory board members who generously volunteer their time and wisdom toward ensuring the success of both ILF and the incubatees we serve. We look forward an exciting and ambitious year in continuing our small contribution towards the country's efforts towards STARTUP INDIA! "
Mr.Sunil Khairnar
Founder, Indigram group
Indigram Labs at DST– ISBA awards
Indigram Labs nominated its incubatees, New Leaf Dynamic Technologies Pvt. Ltd. and Intello Labs Pvt. Ltd. for the VI Indian Steps and Business Incubators Association (ISBA) Awards 2018 and we are proud to say that Department of Science and Technology, Government of India and ISBA recognized both of our incubated companies as the winners in Agri- Innovation category.
Agri-IOT & AI Business Plan Challenge @ American Center
Indigram Labs organised first of its kind Agri-IOT & AI Business plan challenge on 5th January 2018 at Nexus @ American Centre, New Delhi. Despite such niche theme of the challenge Indigram got overwhelmed response from innovators around the country. 220 Applications were received out of which 10 finalists were called to present before the jury panel. The jury panel was composed of scholars, Industry experts and veteran personalities from the field of Agriculture, Banking & Finance, Rural Development, IPR, Management, and Engineering such as:
• Dr. K.K. Singh, Director, CIAE-ICAR, Bhopal;
• Dr. V.M. Chariar, Professor at IIT-Delhi;
• Dr. Sreyash Satpathy, Head & SVP of Central Ministry, Institutions & PSU, Axis Bank, Delhi;
• Dr. Shweta Singh, Founder & Director at Ennoble IP;
• Mr. Rajneesh Kumar, Director, Nexus @ American Centre, New Delhi.
Participants were students, corporate professionals and entrepreneurs. Winners of the challenge were awarded with a certificate and cash prize of 1 Lakh.
1st Position: Farm again Pvt. Ltd.
2nd Position: Inhof Technologies Pvt. Ltd.
3rd Position: Team of Satyam Raj & T.S. Pavan Prasad
Investors Meet
Indigram Labs in association with Step up 360 organised investors meet for its incubated companies working in fields of Agriculture and Renewable Energy on 15th February 2018 at Indigram House, New Delhi. The objective of the meet was to bring Investors and Startups on a common platform & provide financial access to our incubated companies to help them in growing their business. A number of renowned venture capitalists, Angel Investors and Financial Institutions interested in the field of agriculture and clean energy participated in the meet. The details of the Investors are as follows:
• Mr. Anirudh Damani, Director, Artha India Ventures
• Mr. Anil Joshi, Managing Partner, Unicorn India Ventures
• Mr. Akshay Mittal, Mumbai Angels
• Mr. Rohit Singh, Managing Partner, Dexter Capital
• Mr. Vikas Verma, Angel Investor
• Mr. Sandeep Jain, Angel Investor
• Mr. Bipin, Gujrat Venture Finance Ltd. - Start-up Fund
"My Story" Session on International Women's Day
On the occasion of International Women's Day on 8th March 2018, Indigram Labs organised "My story" session, where successful women entrepreneurs shared their story of struggle to success with the future women entrepreneur. The objective was to encourage and inspire women to take up entrepreneurial journey. The speakers for the event were
Vamika Bhatey
A Chartered accountant by profession she refused to focus on accountancy when she found her family's two-acre land was lying idle in her village in Jhajjar. A thorough research, a supportive family and a blend of technology and marketing was what it took for this 26-year-old to start floriculture on her land, which has garnered her Rs 1.5-crore turnover in just over a year.
Hema Bhatia
Founder of Blissful, which offers fresh, convenient, and wholesome food which is also full of taste under the brand name "Relish". The idea came to her mind when she found her 3 years old daughter preferring fast food over green vegetables. Discussing the issue with her friends she realized the scale of the problem, together with her brother she started the R&D from their home kitchen and now offers healthy alternative to fast-food such as wheat flour cake, yogurt dips etc.
Dr. Anuradha Khairnar
Dr. Anuradha Khairnar is a member of the Royal College of General Practitioners (MRCGP) of the United Kingdom (UK) and holds a Diploma of the Faculty of Sexual and Reproductive Health (DFSRH). With more than 20 years of experience Dr. Anuradha started Indicare Health solutions which are a Care Management Organization that develops and deploys technology enabled solutions to deliver accessible & affordable patient care across India.
All India Agri Startups Conclave 2018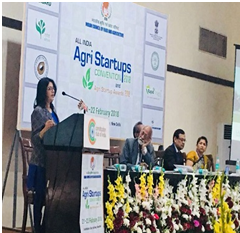 ICFA organized All India Agri Startups Conclave 2018 with the aim to bring all the startups in food and agri space on single platform for sharing of success stories and exploring business and marketing linkages, technology and financial tie-ups and partnership opportunities. The conclave provided opportunities for experience and knowledge sharing, synergies, connects and partnerships, collective and creative thinking to create pro-startups environment for ensuring success and sustainability of upcoming startups and attracting youth towards entrepreneurship in food and agri sectors. Governments officials and institutions like NABARD, SIDBI, NSDC, SFAC, ICAR, CSIR, UNIDO, IFAD, banks and industry also participated in the event. Dr. Manisha Nanda Acharya, CEO of Indigram Labs enlighted young entrepreneurs on various pro-Start-up Schemes launched by Government of India at the event.
Behind Indigram Labs' Push towards Nurturing Startups in Agri, Health And Renewable Energy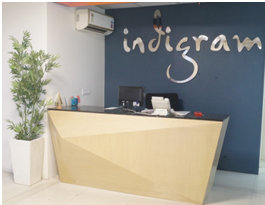 Equipped with 18 Years Of experience with startups as indigram group, Indigram Labs Has Incubated 18 Startups with the support of its host institution Indian Society of Agribusiness Professionals (ISAP) which has its reach in 18 Indian States, Inc 42 covered the story of Indigram Labs.
Read More
How AgriTech Startups Can Further Add Up To the Government's Mission to Double Farmers' Income By 2022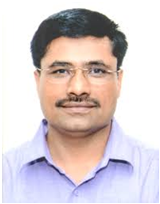 Startups can help solve for two major pain points in the sector including large yield gaps and inefficiencies in supply chain management. An article written by Mr. Sudarshan Suryawanshi, Co-founder and CEO of Indian Society of Agri Business Professionals (ISAP) and member of Board of Indigram Labs Foundation.
Read More
From the Incubated Companies we serve.

"Indigram Labs has been a great help to us. Be it in terms of arranging "feet on the ground" support (for collecting critical data), be it in connecting us with critical stakeholders or prospective clients, be it in giving us strategic advice….we are overwhelmed with their support."

Ramakrishan
Intello Labs Pvt. Ltd.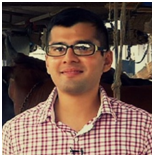 "It is wonderful working with Indigram Labs; they have provided us with encouragement, connectivity, linkages to leading figures in the field of Agri-business. We are grateful to the whole management and team of ILF."

Akash Agarwal
New Leaf Dynamic Technologies Pvt. Ltd.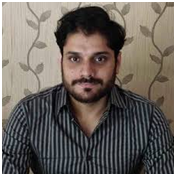 "I have been connected to INDIGRAM LABS for past year. This connection gave me a lot of opportunity to look at my company from investor's point of view. INDIGRAM helped me evaluate my company, helped me improve operations. They also showed me the ways to improve valuation of my company. They have also connected me to 3 serious investors in short span of 2 months. Good thing about INDIGRAM is into the space of agriculture which helps them connect us to different market players. They also consider our business as their, understand our business goals and help us walk the path."

Bhushan Jhambhekar
Vasumitra Life Energies Pvt. Ltd.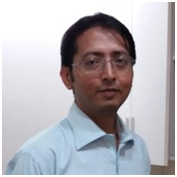 "Indigram is unique. It has one of the most coveted group of advisors. We benefitted immensely by getting their input on our business model, especially about the risks elements. The entire team is very helpful and the leadership is very sensitive to each entrepreneur's requirement."

Ravi Sharma
Aginnovate Farms Pvt. Ltd.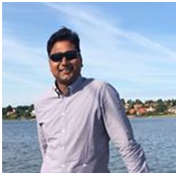 "Indigram Labs as an incubator provided platform to come on board with an idea/ concept support us in building the product and help us to reach out to market"

Bharat Chandra
Advi Foods Pvt. Ltd. (Huga Ice Creams)