So far journey of Indigram Labs Foundation

Indigram Labs Foundation (ILF) has made some impressive strides since its humble beginning in 2015. Founded as a technology business incubator under section 8 (Not for Profit Company) of companies act 2013, Indigram Labs is supported by National Science and Technology Entrepreneurship Development Board (NSTEDB), Department of Science and Technology, Government of India.

Indigram Labs is committed to foster and nurture viable business ideas in the fields of Agriculture, Food Processing, Renewable Energy and Rural Healthcare. Till date we have touched the lives of around 2,00,000+ farmers. We believe that there is no dearth of ideas but mentoring, an initial push which will make the difference between an unfulfilled dream and a flourishing business. We create an entrepreneurial ecosystem for individuals with creative minds and ideas with potential to grow full – fledged business enterprises which can touch & transform rural lives. To date, ILF has
1. Helped 20+ nascent stage ventures to develop into a sustainable business
2. Sustained more than 500 employment opportunities all across the country.
3. Established an entrepreneurial ecosystem with 55 mentors, 35 investors, 25 Institutional and organizational collaborations and many more to add.

ILF targets to incubate 100 starts ups in next 5 years through the process of consulting, mentoring, prototype creation, leveraging technology tie ups and access to platforms that yield the stated results, other business management (legal & secretarial, office space) services and also funding for them. These enterprises are selected on the basis of power of the idea, its business model, potential to scale up and social impact apart from motivation that drives the entrepreneurs.

We at Indigram Labs Foundation believe that entrepreneurs have a unique opportunity to make positive global change while remaining profitable. They have the power to change lives and livelihoods in the communities and the country. We see them as the conduit for real change and development – a ripple effect that begins with the business and moves into the community at the grassroots level.
| VENTURES - 28 | INNOVATION - 11 |
| --- | --- |
| INNOVATORS - 47 | MENTORS - 55 |
Highlights of Incubatee Companies for the financial year 2018-19

Indigram Labs Foundation has taken several initiatives to tap innovation and entrepreneurship. In our TBI, we currently have 28 Start-up companies incubated with us

Out of these 11 companies are physically present, 8 companies are virtual incubates, 6 are accelerated companies and 3 Incubatee Graduated.

ILF also promoted 10 agriventures through Agripulse'18 North East accelerate the program.

Thrust area of operation:
1. Agriculture & Technology & Food Technology
2. Rural Focused Health and Wellness
3. Clean Energy and Automation
4. Education & Skill

New Incubatees Incorporated during 2018-19:
1. FarmGuide: Bringing Info. Symmetry using Big Data/AI/ML.
2. MyCrop Tech: Facilitating data-driven decisions.
3. CultYvate: Automating Farms & Farm equipment.
4. XaasTag Regtech: Delivering Group Medical Insurance on Prepaid Card.
5. Rowan Agronature: Value-adds to Corn cob & Millet processing.
6. Innotech Agropostikam Pvt. Ltd: Mushrooms fortified with Vitamin D.
7. Absolute Foods: Creating Tech enabled farms food production.
8. Farms2Families: Farm rental service & Doorstep F&V delivery.
From the Desk of Founder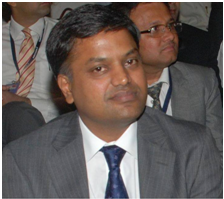 "Welcome,
I am proud to present the second issue of the Newsletter of Indigram Labs Foundation (ILF) and hope to highlight the work done by the extended ILF family. Our Newsletter is not just about basking in our past achievements, but to keep our incubatees, partners, sponsors and supporters informed about the activities of ILF. In the past years we have created an entrepreneurial mini-ecosystem within our sectoral focus areas with 28 incubated companies, 47 innovators, 55 mentors, 35 investors and several national & international collaborations with institutions and organizations like IARI, CFTRI, Villgro, Techtown Detroit, Berkeley SKYDECK, TERRA and many more. ILF has sustained more than 500 employment opportunities across the country. Our success is a function of the efforts of our team, partners and the talented entrepreneurs in the incubation program. We would like to express our gratitude to our honorable board and advisory board members who generously volunteer their time and wisdom toward ensuring the success of both ILF and the incubatees we serve. This brief reviews the available precedents about a variety of diverse agribusiness development interventions to examine the potential for agribusiness investment clusters, special economic zones (SEZs) and how the ILF Ecosystem could contribute to the growth of smallholder incomes, crop yields, and other development goals.
Mr.Sunil Khairnar
Founder, Indigram group
Achievements of Indigram Labs Foundation
Best Agri & Food Incubator of the year 2019

We are awarded as Best Agri & Food Incubator of the year 2019 at Agriculture Growth Summit, Mumbai.
---
Dr. Manisha Acharya, CEO Indigram Labs Foundation got selected for Silicon Valley Visit Program- 2018 to understand Entrepreneurial Ecosystem. It was sponsored by Department of Science and Technology, Government of India
---
ILF, CEO got Best CEO (Incubator) award by ICFA on 26th Oct 2018
---
Indigram Labs Foundation is establishing & Strengthing the network worldwide in the field of Agri & Food. Our Director (Investment) present at World Tech Agri-Innovation Summit, San Francisco.
Achievements of Incubatee Companies
Fund raised:
Happy to share, one of our incubatee company Intello Labs raises $2m Investment... Read More
Awards & Recognitions:
Intello Labs Pvt. Ltd.
| | |
| --- | --- |
| | |
| Nasscom leadership award (2019) | CII Agro Tech award (2019) |
---
Agsmartic Technologies Pvt. Ltd.
UP Startup Conclave participation certificate -2019 – Got selected as 1st in Innovation in Agri – Tech.
---
Innotech Agropostikam Pvt. Ltd.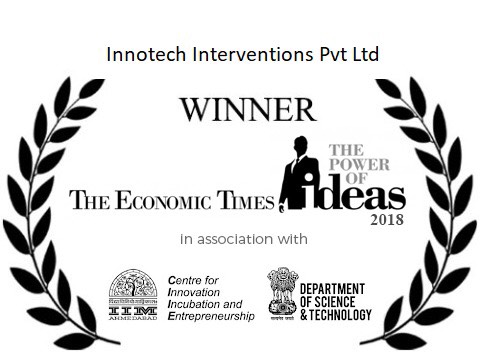 Winners of Power of Ideas (Economic Times and IIMA)
---
Innosapien Agro Technologies Pvt.Ltd.
| | |
| --- | --- |
| | |
| Gandhian Young Technological Innovation Award | IIM – Ahmedabad, Economic Times Power of Ideas |
---
Mycrop Technologies Pvt. Ltd.

Best Agritech Startup 2018
Highlights of the past year (Events@ILF )
Workshop on "Attracting the Venture Investment to Your Startup"
A wonderful workshop held on 26th April 18 "Attracting the Venture Investment to Your Startup" for incubatees of Indigramlabs. By Mr. Vijay Bijlani, Director, Stories & Ideas Corp. and Mr. Amit Sinha, Strategy Consultant.
A Team of Startup Founders from South Korea visited Indigram Labs with the support of AICTE, New Delhi
The Centre for Creative Economy & Innovation (CCEI), Daegu, Republic of Korea and All India Council for Technical Education (AICTE), India has conducted one day visit of IndigramLabs Foundation- a Delhi based Agriculture Incubator for selected Team of Startups/ Entrepreneurs. It aims to offer these Innovators an international linkage opportunities and exposure to Indian Startup Ecosystem. On this occasion, South Korean Innovators interacted with Indian Startups and explore the possible synergies for business expansion
Healthon'18- Hack 2 Rural Health conducted at NASSCOM, Gurugram
The Grand Finale of Healthon 2018- Hack 2 Rural Health for problem statements based on RuralFocused Health & Wellness was organized during 26-27th July 2018 at Centre of Excellence-IoT,NASSCOM, Gurugram, Haryana. The event was jointly hosted by Department of Science & Technology, GoI, Indigram Labs Foundation, Indian Society of Healthcare Professionals and Centre of Excellence-IoT, NASSCOM... Read More
AgriPulse'18- North East Accelerator Program Inauguration
Indigram Labs Foundation, Supported by Department of Science Technology, GoI have successfully completed a six-month accelerator program AgriPulse'18 to identify & support innovative, sustainable and scalable early-stage Agri & Food entrepreneurs from North East India... Read More
Boot Camp for NE Startups-AgriPulse'18
The AgriPulse'18 was an Accelerator Program started with an aim to recognize potentially game changing early-stage entrepreneurs from North-East India and creating a supportive ecosystem to help them scale up their businesses. This unique initiative would bring together the key stakeholders in the regional entrepreneurship ecosystem including startups, investors, mentors, and subject matter experts and help unlock the huge potential of the North Eastern states by unleashing the innovative energy of the emerging entrepreneurs of the region . Read More
AgriPulse'18 Demo Day
On 20th August 2018, Indigram Labs Foundation (ILF) launched Agripulse'18 North-East Accelerate programme with the vision to support Startups from North-East India. The six months long Accelerate Program was supported by reputed bodies including NABARD, DST, North Eastern Council, ISAP, NEDFi, Startup Assam, Aavishkaar Ventures, Omnivore Partners, Ankur Capital, etc. Read More
Roundtable Discussion on " Unleashing Potential of Indian Agriculture- Increasing Wealth Creation & Employment "
Indigram Labs Foundation has organized a Roundtable Discussion on " Unleashing Potential of Indian Agriculture- Increasing Wealth Creation & Employment " in a series of events happening across the country under Festival of Innovation & Entrepreneurship (FINE), a unique initiative of the Rashtrapati Bhawan, Department of Science and Technology, Government of India & National Innovation Foundation - India.Got wonderful perspectives from key stakeholders of Indian Agriculture Startup ecosystem. Hope the jotted suggestions will bring policy level changes for New India.
Entrepreneurship Awareness Camp
Indigram labs had organised three Entrepreneurship Awareness Camp (EAC) indifferent Colleges of Delhi NCR. The venues were Accurate Institute of Advanced Management, Greater Noida; United College of engineering & Technology, Greater Noida & NIFTEM, Sonepatto sensitize students about entrepreneurship. Program was conducted in support of EDII, Ahmedabad & DST-NIMAT.
ILF in the Media
• Digitization in Agriculture – A Game Changer...Read More
• 10 AgriTech Startups From Indigram Labs Incubator That Are A Must Watch...Read More
• Mizoram University-a Incubation Centre leh New Delhi-a Indigram Labs...Read More
• AgriPulse – Accelerate North-East launched...Read More
• Agartala hosts Agri-pulse, a seminar to accelerate Northeast...Read More
• AgriPulse Accelerate NorthEast launched...Read More
• AgriPulse Accelerate North East Program Launch & Roadshow...Read More
• AgriPulse 2018 event at Incubation Centre Delhi on August 31, 2018...Read More
ILF Incubated companies in Media
• Life-sciences-special-august-2018...Read More
• This Bengaluru Based Startup Aims to Bring Transparency in the Agriculture ...Read More
• Interview : Milan Sharma , Managing Director // Intello Labs // Krishi Jagran...Read More
• Snacks start-up Sattviko scouts for 40-cr Series A...Read More
• Food Startup Sattviko Raises Strategic Funding To Expand Internationally...Read More
• Meet 5 startups that are helping farmers with new-age and innovative agricultural practices...Read More
• This founder from Rajsamand is showing there is more to agritech than an app for farmers...Read More
• The Hindu article...Read More